Home »
VOIP CALL RECORDING
TRX recorders are able to record VoIP calls from the following systems:
Aastra (Matra/Nortel)
Alcatel
Avaya
Cisco (Call Manager 4.0, 4.2, 6.0, UC520)
Ericsson
Panasonic
Siemens (HE 620S.07.545, HE 620S.09.676)
SIP (version 2.0)
H.323
The reliability of VoIP calls recording depends on many factors. The most important are:
firmware version on the recorder
firmware version on PABX
configuration of PABX
IP network structure
configuration of network devices (switches)
applied audio codecs
The most important is proper configuration of network devices. TRX recorder must capture VoIP packets covering both call events information and audio stream transmitted between subscriber stations and the PABX/softswitch. This is achieved by connecting the recorder to one port on a managed switch which acts as the SPAN (mirroring) mode and captures VoIP packets. Be careful to network traffic transmited to the recorder does not cause packets duplication. Although TRX recorders are resistant to packet duplication, excessive network traffic causes an increase in computing power and in certain specific instances may result in quality and stability decline. It is recommended that all network traffic that is not associated with the recorded VoIP system has not been redirected to the SPAN port.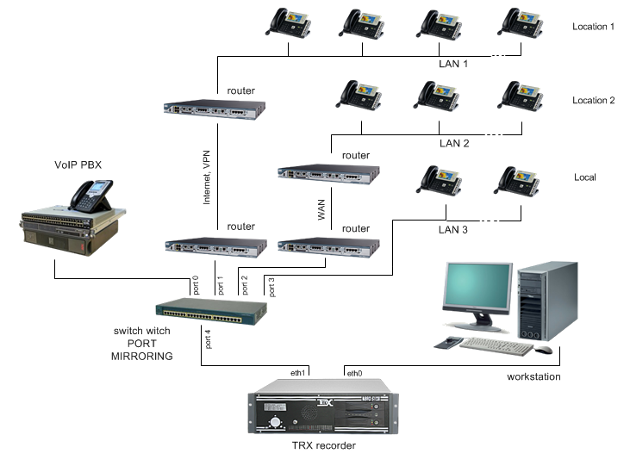 You should also pay attention to the types of audio codecs used for voice packets transmission. The codecs are usually determined by means of "regions" settings in the PBX configuration. Some systems require configure the audio codecs by means of VoIP stations menu.
KSRC recorders support the following
audio codecs
:
G.711 µ-law (PCMU or G.711µ) - used primarily in North America and Japan
G.711 A-law (PCMA or G.711A) - in use in most other countries
G.722 - provides in comparison to G.711 better quality using the same bandwidth
iLBC
GSM 6.10
G.729 (under license)
NOTE!
PABX producers may make changes without prior notice in his proprietary VoIP protocols. Therefore, we can not guarantee that every VoIP call recording implementation will proceeds smoothly. However, after receiving VoIP signaling and audio sample (eg. Wireshark *.pcap file) we are able to eliminate the problem within reasonable short perod of time.
If You have a system that is not listed above also are encouraged to contact us. This will allow us to gather information what are the needs and expectations of the market.