Home » Products »
SINGLE CHANNEL RECORDER
KOLIBER series
---
KOLIBER series call recorders produced by TRX is a standalone devices designed for recording calls on single telephone line (analogue or digital). The device is equipped with microSD memory card where is stored audio content of recorded conversations and call related data as:
date and time beginning of calls
duration,
call direction (outbound or inbound),
call origination or destination party numbers.
KOLIBER call recorder

download data sheet




download operating manual




ask a question



No. of channels:
1
Line type:

*

analogue
digital Siemens (UP0)
digital Ericsson (UP0)
digital Alcatel (UA)

Connection mode:
2 separate jacks for line and phone connection
Line input sockets:
2 x RJ-12


LINIA

to connect the phone line


TEL

to connect analogue phone
Memory:
microSD (SD/SDHC) memory card
capacity 2 .. 32 GB
class 4 or faster
Recording buffer:
ca 1 000 hours (for 32 GB memory size)
Supply:
5 V DC (USB socket)
9 V DC (DC soctet)
Sygnalizacja stanu pracy:
3 x LED:
S1, S2 (device operating status)
POWER (power presence)
Dimensions (width x height x depth):
73 x 26 x 94 mm.
* Our development team working on extending functionality of the recording calls on digital lines other PBX-es manufacturers.

KOLIBER recorder may be placed near the recorded telephone or any other place where connecton to recorded line is available. This device is powered by 5V DC voltage from AC/DC power adapter or USB socket of any PC.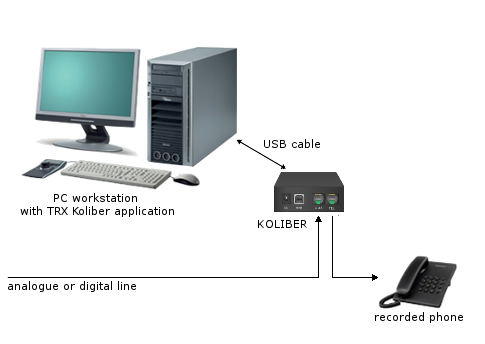 Device configuration or playback recorded calls is possible after you connect the recorder to a PC working under Windows family OS by means USB cable. To handle the recorder is used TRX Koliber application.
In order to retrieve stored recordings list and playback any call you should connect the recorder any USB socket on PC and run the TRX Koliber programm. All calls are played back using the system media player - Windows Media Player. Your computer should have properly configured sound card (installed drivers) and have attached speakers or headphones.
Selected recordings can also be saved as wav files on the hard disk of the local computer.