Home » CTI integrations »
CTI INTEGRATION
KENWOOD NEXEDGE
Kenwood NEXEDGE is innovative digital radio system that supports both FM analog and new digital modes via common transceiver technology. System type conversion or expansion only requires software options and/or additional base station units, i.e., no "major" upgrading. This allows system owners to migrate to the new, digital system without replacing the entire system at once.
The increased popularity of wireless networks based on the technology NXDN in the uniformed services and private companies resulted in the need for call recording of the radio stations operating in the system. To meet these expectations, TRX has enriched KRSC recorders ability for call recording from Kenwood NEXEDGE radio communication systems based on CTI (Computer Telephony Integration) integration and LAN/WAN environment.
---
CTI INTEGRATION

In case of recording two-way radio calls in traditional way, the audio stream (in analog technology) is retrieved directly from recorded radios. The accessory connectors or microphone and speaker signal summing interfaces are usually used for this purpose.
Call recording features:
audio capture method:

recording of IP-audio and metadata feeds from repeaters

audio format supported:

NXDN-standard AMBE+2 Vocoder

metadata captured:

Radio ID and Called ID/Group ID
CTI integration TRX recorders with Kenwood NEXEDGE radio systems allows for recording audio by means of digital stream supplied by NXR-700/800 repeaters via RTP (Real Time Transport Protocol) streaming protocol, using IP network environment.
The solution with CTI integration has an ability to record vary kind of calls:
group and individual
inner-site and inter-sites
unencrypted and with scramble encryption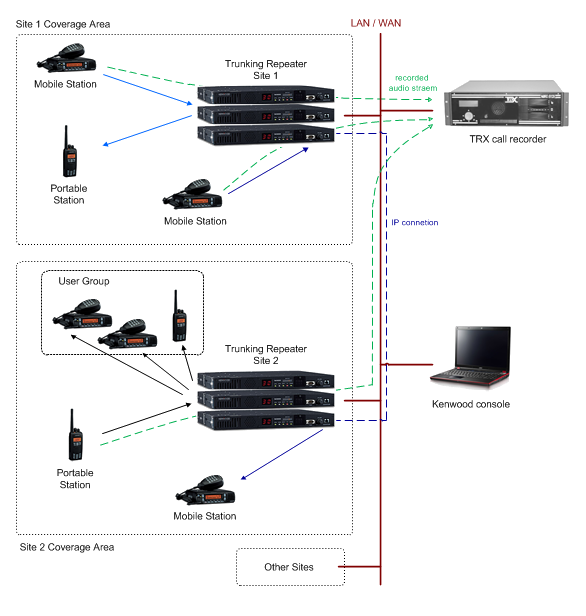 To play Kenwood NEXEDGE calls saved on TRX recorder you need USB dongle hardware key.