Home » CTI integrations »
CTI INTEGRATION
CISCO Unified Communications Manager (CUCM)
Dynamic growth of computer networks and progress in the computer science within final years has caused distinct changes on the market of telephone services. More and more often conventional (TDM) PBXs are being replaced by new solutions based on IP technology (IP-PBX). VoIP systems based on hardware and software supplied by Cisco Systems, Inc. are one of the most popular solution in recent few years.

---
SIP Trunk/JTAPI

The integration allow for active recording calls from Cisco SCCP or SIP phones working under Cisco Unified Communications Manager (formerly Cisco Call Manager) in version 6 or later.
CTI interface is entirely based on seamless software solution utilizing the built in recording options in CUCM. Active call recording is an efficient, proven and certified by Cisco method for IP recording. Data flow between TRX call recorder, Cisco Unified Communications Manager platform and any recorded station is carried out by existing IP network infrastructure.
Using the TRX solution based on SIP Trunk / JTAPI interface lets you on:
collecting of additional call-related information, including:
- Cisco Call ID
- Called Name
- Called Party Number
- Caller Name
- Calling Party Number
- recorded station IP address
- recorded station MAC address
- Extensions Involved

receiving call transfer events within recording system
collecting information about IP address and physical address (SEP) of the recorded Cisco terminals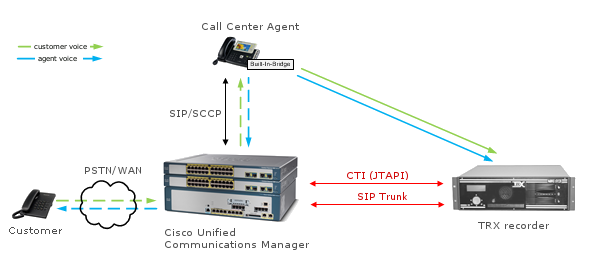 The solution allows for recording calls carried on third-generation Cisco IP phones, equipped with Built In Bridge (BIB) feature. BIB provides forking audio stream to TRX recorder, so you don't need configure network switches to ensure VoIP packets replication (SPAN/ Packet Mirroring).
Other IP station can be recorded only by means of traditional packet analysing method (SPAN port feature).
For each TRX call recorder shuld be configured dedicated SIP trunk to Cisco Call Manager. If on any monitored station is an active call, the Cisco Unified Communication Manager sends appropriate SIP messages to the TRX recorder. Additional call-related event information are exchanged via CTI interface by using JTAPI protocol.
KSRC recorders support the following audio codecs:
G.711 µ-law (PCMU)

64 kbit/s - 8 kHz

G.711 A-law (PCMA)

64 kbit/s - 8 kHz

G.722

64 kbit/s - 16 kHz

G.729

8 kbit/s - 8 kHz