Home » CTI integrations »
CTI INTEGRATION
AVAYA COMMUNICATION MANAGER (ACM)
TRX has implemented two types of
CTI integration
KSRC series call recorders with Avaya Communication Manager (ACM) PBXs:
active recording

- using AES Server and DMCC protocol

passive recording

- based on ASAI interface
---
AES (Application Enablement Services) SERVER
AES is a server-based software application that provides a number of interfaces (eg: TSAPI, JTAPI, CVLAN, DMCC, DLG).
AES / DMCC based solution is an Avaya compliant method of recording which is entirely software-based and does not require telephony boards or any wiring beyond your typical network infrastructure. No additional hardware is necessary, even as you scale the telephone network in your company.
The active call recording method supports TDM, IP or hybrid telephony environments.
REQUIREMENTS FOR AES INTEGRATION:
Hardware and software

Avaya Communication Manager (version 3.0 or later)
AES Avaya Server (version 3.0 or later)

Avaya Licenses

IP_API_A (formerly CMAPI) for each recording channel
TSAPI for each recording channel
TSAPI for each monitored station
enabled Enhanced Conferencing parameter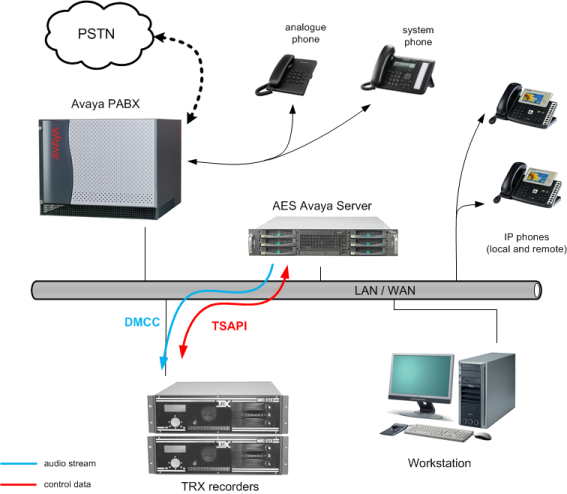 The DMCC (Device, Media, and Call Control) service provides access to Avaya Communication Manager's device, media and basic call control capabilities. Media control functionality allows TRX recorders access to voice stream RTP data.
The TSAPI (Telephony Server Application Programming Interface) provides call state monitoring, call information and call control functionality for all extensions being recorded.
---
ASAI (Adjunct-Switch Application Interface) INTERFACE
The use of ASAI interface-based solution requires the Avaya PBX to be equipped with additional interface board: C-LAN (TN799) or MAPD LAN Gateway (TN801).
The audio stream is being collected by means of recorder interface boards connected to Avaya PBX lines that are to be recorded. All call-related event information is retrieved directly from the Avaya PABX by means of the ASAI protocol.